Arusha is a sprawling city in the country of Tanzania. It serves as a principal gateway to the northern safari circuits and the starting point to a plethora of remarkable safaris. Aside from being conveniently located in the heart of the most famous parks, Arusha also holds international and domestic airports plus local public transportation that connects to other major cities in the country. If you're looking into exploring some safaris from Arusha, this comprehensive guide will discuss everything you need to know.
Safaris from Arusha
The most highly recommended safaris that start from Arusha are:
Arusha National Park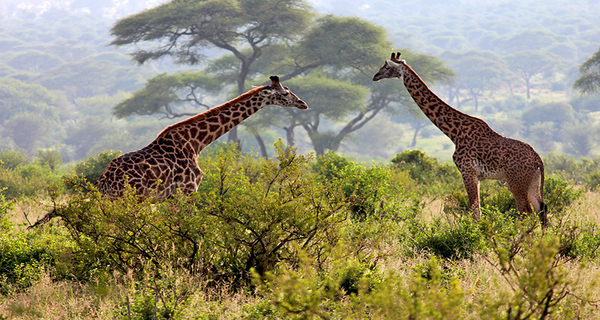 Deemed as the most accessible park in Tanzania, Arusha National Park boasts of an incredible landscape and wildlife that offers various safari activities including a canoe trip, walking safari and picnics in the wild. It also covers Mount Meru, a dormant volcano that is known as Africa's fifth highest mountain, considered an excellent introductory climbing destination. If you're looking for a small park with lots to see and experience in one day, Arusha National Park is for you. It is not only home to Africa's largest giraffe population, it also provides safe haven to other large mammals like elephants, buffaloes, zebras, hippos and some wildebeests.
Lake Manyara National Park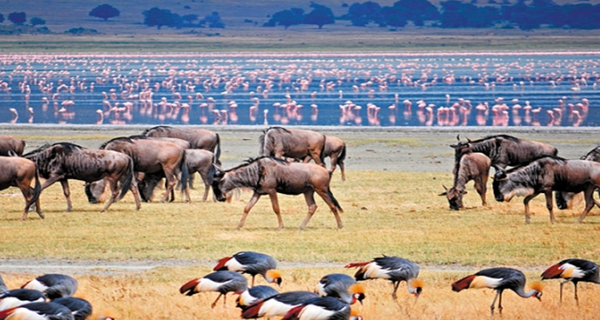 Famous for the massive herds of pink flamingoes by its shallow soda lake, Lake Manyara National Park is a favorite destination for both safari goers and birders. It is also renowned for its gorgeous display of diverse and untouched ecosystems, unique tree-climbing lions, thick elephant population and spectacular birdlife. You can also find rhinos, buffalos, giraffes, hippos, antelopes and one of the thickest baboon population in Africa.
Tarangire National Park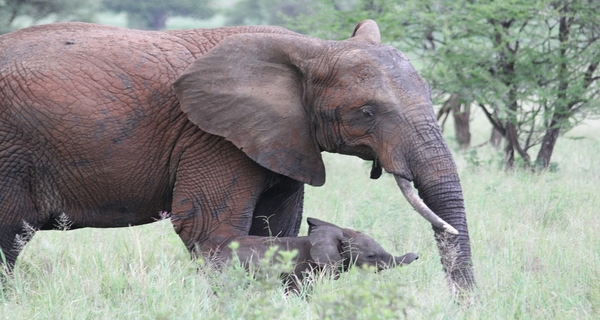 Tarangire National Park is the sixth largest park in Tanzania and home of the country's largest elephant population, garnering about 300 migrant elephants around its watering holes and marshlands every year. The park is a neighboring park to Lake Manyara and it features a stunning forested landscape scattered with  beautiful baobob and acacia trees. Elephant mud baths are also a common sighting in the park, one that's frequently photographed by many tourists. If you're after the Big Five, all but the rhino can be easily spotted around the park. Other wildlife include impalas, zebras and wildebeests.
Serengeti National Park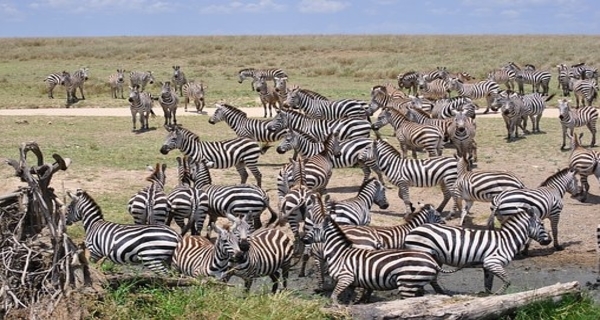 The Serengeti is one of the most popular and most photographed safari parks in the world. It is most famous for the Great Migration that happens all year-round around its vicinity and for being a primary cheetah country. Serengeti National Park has always been known as a big game destination offering extraordinary safari experiences. With a classic African backdrop and a gorgeous landscape teeming with wildlife including the Big Five and other predators like leopards and hyenas, it is not surprising that Serengeti National Park is one of the must-visits in Africa. What's great about the Serengeti is that wildlife in this park remains abundant all year round.
Ngorongoro Conservation Area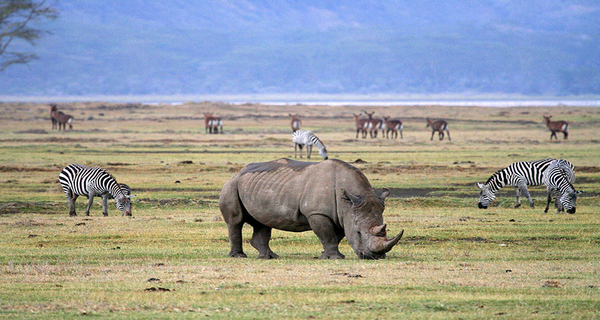 Often referred to as "The Wildlife Eden", Ngorongoro Conservation Area is a World Heritage Site that lies continuous to the world-famous Serengeti. It is where you can see the Ngorongoro Crater, the world's largest inactive volcanic caldera, and it is also best known for its endangered black rhinos and prolific wildlife including the Big Five.
How to get to Arusha?
There are two airports that serve Arusha:
▪ Kilimanjaro International Airport (JRO) which is only 60 kilometres away from the city center (about 80 minutes on the road or 20 minutes to Arusha Airport), holds regular flights to and from different hubs in the world. Direct flights include Amsterdam via KLM, Doha via Qatar Airways and also Addis Ababa, Zanzibar, Nairobi and Dar es Salaam.
▪Arusha Airport which is a domestic hub that accommodates flights to and from Zanzibar, Kilimanjaro and Dar es Salaam
For a cheaper way to Arusha, some tourists prefer to skip the direct route and fly into either Nairobi in Kenya or to Dar es Salaam, the capital of Tanzania, and then take a connecting flight to either Kilimanjaro or Arusha.
There are also public coach services that connect Arusha to other major cities in Tanzania as well as to other neighbouring countries. If you are already in Africa and you wish to take this route to Arusha, you only have to travel about 12 hours from Dar es Salaam, 6 hours from Nairobi in Kenya and approximately 17 hours from Kampala, Uganda.
Getting around Arusha
For those who intend to stay in Arusha or perhaps spend at least a day to explore the town, the most common public transport is the daladala. This is a minibus that goes around town and cost only about TZS400 (25 cents). When taking this, you have to be mindful of your things as pickpocketing is somewhat rampant in some areas. Taxis are also available in town. You just have to talk to the driver and agree on a price before leaving.
Ways to go on a safari
Like traveling to Europe, US or Asia, you always have the option to either DIY your trip or hire a travel agency/consultant. In Africa, you can either rent a car to DIY your trip or you can get a tour operator. The difference is, while doing a DIY trip on other countries may be favorable and in some ways a lot cheaper, doing a DIY trip to Africa is somehow inconvenient.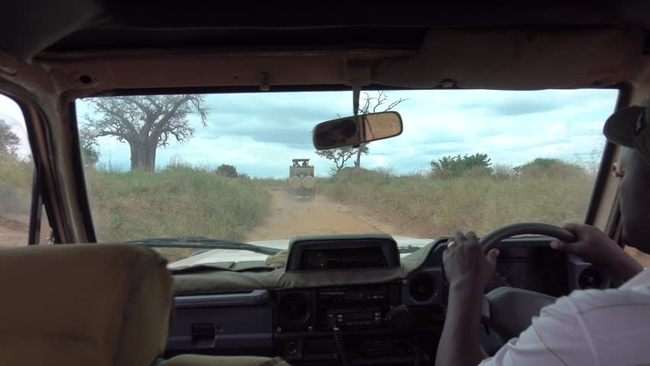 Self-driving requires more time and energy, and a lot of research. For one, most roads in Tanzania are terrible and unpaved so unless you're a car mechanic, this could become a problem.
Markings and road signs are also not available so you wouldn't be guided as to where to go and what the rules of the road are.
Also, if you don't speak Swahili, it'd be difficult to ask the locals for directions and/or recommendations.
Of course, if you really want to do this, you can always make use of maps and GPS. Or, you can also just rent the car and hire a driver. If you do this, just make sure you tell the car operator your itinerary because sometimes, things could get complicated especially when you want to cross countries.
"Another downside to self-driving is the lack of knowledge about directions, wildlife and whatnot. Since you are not very knowledgable about the place, there is a high possibility of missing some wildlife. Unlike having a local guide who will also serve as a spotter, you might just find yourself trying to chase wildlife but never really getting those close encounter experiences. It is, after all, not that easy to spot animals by yourself.
For food, most parks don't have public restaurants. You need to bring your own food.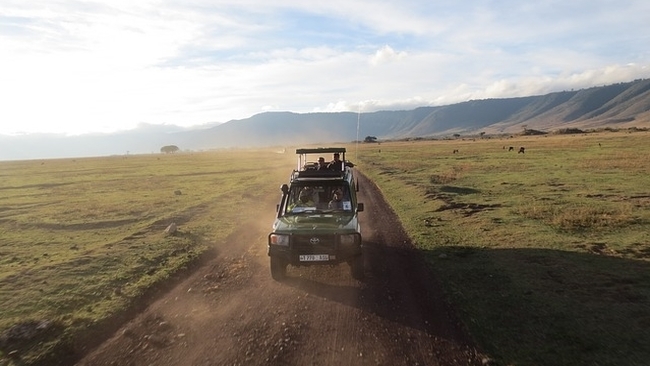 For a more convenient option, what we recommend especially for first timers is to hire a trusted safari operator. They will not only provide you with the most experienced and trained guides and spotters, they will also arrange EVERYTHING for you – your accommodation, meals, game drives, etc. You can even have your trip tailor-made. All you need is to contact them and tell them what you want. You can even have them tailor-fit your itinerary to your budget. Of course, booking your safari in advance is highly advised as this may not only give you a chance to score cheaper deals, this will also give you enough time to plan, figure things out and have everything arranged when you arrive.
How's the weather and climate in Arusha?
Being close to the Equator, Arusha only has 2 seasons: wet and dry. It is mostly sunny all year-round except during rainy season, which is in April to May (sometimes starts at the end of March), where it rains almost everyday from morning up until the afternoon. In November and December, they also have this wet season called "short rains" because rains usually last for only half a day, usually in the morning. For the rest of the months, it remains sunny and hot in Arusha.
The best time to go is between June and October when it is dry season, sunny and hot during the day and cool in most nights.
More than just a major safari hub.
Arusha, by itself, is more than just an entry hub to some of Africa's most popular safari destinations. If you have a day or two to spare, you can always spend it in Arusha. They have a clock tower which is basically a landmark in town, cozy coffee shops, local restaurants, pubs, clubs, zoos, snake parks and a string of hotels/lodges. Then when you're ready to explore the wild, it's always just a couple of hours away. Certainly, safaris near Arusha will always enchant you.